Lampert - Innovative precision welding equipment
Lampert precision welding equipment has been a byword for innovation for over 20 years.The largely automatic welding process enables a wide variety of processes to becarried out easily and reproducibly. In the process, you will be able to weld tasks noticeably better and faster. Even more complex processes are no longer a problem. Get to know our welding equipment now
The PUK 6 is awarded with the renowned "iF" Design Award
Our current precision welding equipment
2002-2022
Lampert precision welding equipment has been a byword for innovation for over 20 years.The largely automatic welding process enables a wide variety of processes to be carried out easily and reproducibly. In the process, you will be able to weld tasks noticeably better and faster. Even more complex processes are no longer a problem. Get to know our welding equipment now!
Lampert Micro Arc Welding Process in Action
Lampert micro ark welding process in action
Customer testimonials
___________________________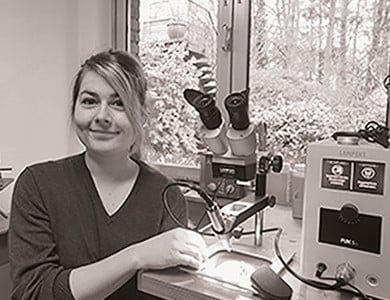 Christa Fischer
Goldsmith
Germany
After my apprenticeship, I have learned one more enriching technique besides the typical craftmanship – using a PUK welder.
Learn mre
Veselin Tenev
Master jeweler
Royal Tunbridge Wells, Kent, Great Britain
Actually, my dealer in the UK has told me only two words when I have bought the machine: "Have fun!"
Mohan Chandie Shaw
Master goldsmith / designer / stone setter
The Hague, Netherlands
With my PUK I can design, make and repair jewelry faster, better and more complex.