Skip to product information
PUK C440 withSM3 Microscope & Argon Regulator
PS2000C440
$3,995.00
PUK C440 
Developed by goldsmiths for goldsmiths.
Weld on findings, easily add metal, weld adjacent to stones, weld silver, fill porosity, attach workpieces prior to soldering, weld seams, and much more – all no problem with the PUK®.
The PUK C440 precision welding device is a compact and versatile TIG impulse welder with which fine and minute welds can be carried out under a welding microscope.
The operating principle and spectrum of possible applications are very close to those of laser welding. This similarity means that the exact positioning of small, stable spot-welds or welds in hard-to-get-to or deep-lying positions
poses no problem. In contrast to soldering, the area of the workpiece that is affected by heat is very small when working with the "PUK".
So small in fact, that problem free welds adjacent to precious stones or pearls can be handled with ease. Even the finest of welds are possible.
Utilizing our welding microscope, the problem-free handling of pieces of work right down to 0.2 mm now becomes a reality.
· Consistently reproducible high-quality welding results with all materials suitable for welding
· Precise positioning of the spot welds
· Very low, controllable development of heat
· Welding possible on even the thinnest of materials
· Welding in protective atmosphere
· Maintenance-free technology
· Low initial costs, excellent price/performance ratio
· Precision handpiece for precision welding
· Welding microscope for precise welding results
· Makes repairs and soldering work faster and easier
· Very low costs of consumer materials
· Low argon consumption
· Further practical system components available
QUALITY "Made in Germany" BY LAMPERT COMPACT SIZE – FITS INTO EVERY WORKSHOP SIMPLE AND INTUITIVE TO OPERATE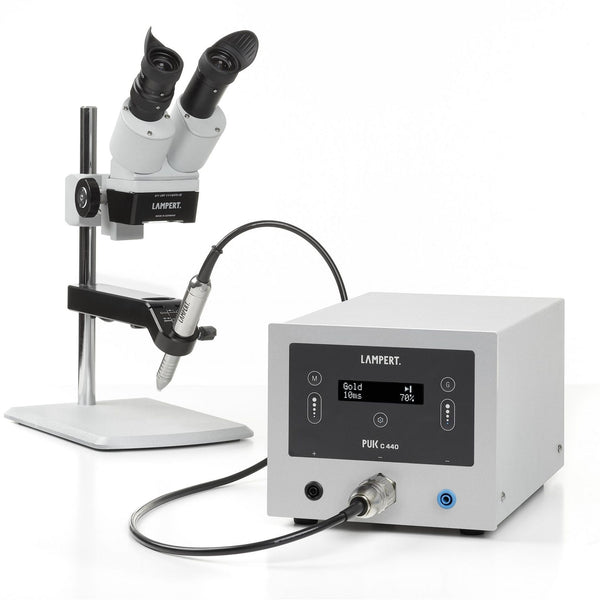 PUK C440 withSM3 Microscope & Argon Regulator
$3,995.00