Skip to product information
PUK S450 and Argon Gas Regulator
PUK S-450
$3,350.00
With PUK S450 the finest of welds are possible e. g. on thin stainless steel plates. Without any welding mark you can weld fine stainless steel plates which is very important at channel letter welding.
You can not see any deformation or chemical reaction after welding with PUK S450 so the channel letters can stand for many years.
AT HOME IN THE SIGN MAKING WORKSHOP
Meaningful construction for long service life and continuous operation:
Passively cooled
The S450 does not need a ventilator or ventilation slots. The passive cooling system generates no disruptive noises and is very energy-efficient.
Dust-tight housing
The S450 features a closed, tight housing.
Thus none of the metal or polishing dusts generated in the workshop penetrate the device. Damage or device errors caused by unavoidable deposits are avoided.
PUK S450
Includes: handpiece with 2. 5 m cable, 1 set special electrodes WLa 0.5 mm and 0.6 mm (10 pcs. each), diamond grinding wheel, contact clamp  with 6 mm² / 100 cm cable, cleaning pen and 3 m gas hose., Argon Gas Regulator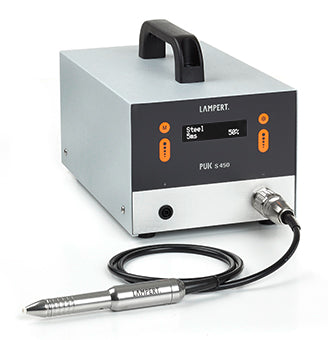 PUK S450 and Argon Gas Regulator
$3,350.00